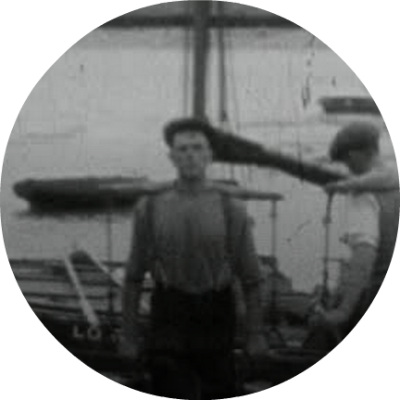 "Old Leigh still retains its charm as a fishing hamlet and cockles are still harvested from the Thames Estuary and served fresh from the boats. But in the 50s Leigh was alive with fishing smacks and home to a thriving industry supplying fresh cockles to the London markets. Harold captures the race against the tide and back breaking work to harvest the cockles and bring them back to shore where the job starts to clean them up ready for sale.
Harold William Jones worked at Kodak from the age of 16 until he retired at the age of 63. His work gave him better access to film than most and he was able to indulge his hobby of filmmaking, recording family and people around him. Living in Old Leigh, Harold had a love for the sea and boats and would have persuaded local fishemen to take him onboard to film them at work - thus preserving a way of life which was such a very special part of Leigh and an important livelihood to many.
The East Anglian Film Archive, the first and largest Regional Film Archive in England, was established in 1976. Since 1984, EAFA has been owned and operated by the University of East Anglia, Norwich (UEA), to support research and work to preserve our moving image heritage. More than 250 hours are freely available online as examples of the wide range of film which attracts interest the world over."
See link for full video
http://player.bfi.org.uk/film/watch-trip-on-a-cockle-boat-1950/